Cybertrim Pro HCG is another HCG-based dietary supplement that is traditionally a hormone-free (don't know why they call it HCG if it doesn't contain HCG) product. This means that this diet drop will help you lose weight through HCG-alternative formula.
If you are new to the weight loss industry, you will learn that there are thousands of dietary supplements that you can choose for your weight loss program. Dietary supplements are also cheaper and way safer than conventional weight loss surgeries. As such, there are no reasons why you should not try dietary supplements such as Cybertrim Pro HCG.
However, not all brands can support or deliver the results that you really want. Efficacy depends on many factors such as ingredients, customer reviews, company reputation and many others.
With that said, let me give you some insights whether Cybertrim Pro HCG can be your ideal weight loss supplement or not.
Cybertrim Pro HCG
Pros:
Increases metabolism

May help reduce appetite

Boosts energy by using fat

Natural ingredients

Cons:
Limited information

Limited customer reviews

No money back guarantee

Side effects are possible

Visit Amazon to Purchase
Our Tip: Instead of using this drop, consider using a proven brand – CLICK HERE
Cybertrim Pro HCG is owned and distributed by Windmill Health Vitamins, a US-based supplement manufacturer that is known for its quality vitamins and supplement products.
As said above, Cybertrim Pro HCG is a hormone-free dietary drop, which aims to reduce your food cravings, burn off fat, boost energy levels while promoting muscle growth through its amino acid content..
Confusing is the company's claim that Cybertrim Pro HCG is hormone-free, but is marketed as a homeopathic HCG drops. The ingredients profile suggest that this brand is indeed, HCG-free.
If you look at Windmill's official site, it explains that Cybertrim Pro HCG works through the ability of hormones to reduce weight. Are you confused yet? In short, this brand has little information to offer which may give doubts on whether this brand is trustworthy of being your primary weight loss supplement.
Cybertrim Pro HCG Ingredients
Cybertrim Pro HCG has a decent and potent formula that is composed of natural and known weight loss agents. Each serving (1 dropperful – 260mg) is consist of irvingia gabonensis extract, aloe vera leaf extract, D-aspartic acid, dong quai extract, black cohosh,  wild yam extract, chaste tree berry extract, L-Carnitine, L-Ornithine, L-Arginine and DHEA.
Other supporting ingredients includes purified water, citric acid, natural flavors, potassium sorbate, hexametaphosphate, sodium benzoate and stevia leaf extract.
How does Cybertrim Pro HCG Work?
As I have said earlier, Cybertrim Pro HCG has limited information so I had to experience difficulty just to give you some inputs on how this diet drop truly works.
To learn how this diet drop works, we need to get some information on its ingredients. Below are the highlight features of Cybertrim Pro HCG's formula.
Amino Acids
Cybertrim Pro HCG has three major amino acids – L-Carnitine, L-Ornithine, L-Arginine and D-Aspartic acid. These compounds combine to form proteins, which is said to be the building blocks of life.
L-Carnitine helps the body to produce energy and is known for heart and brain function improvement. It is also known for muscle development, fat burning and many other processes.
L-Ornithine is mainly used for athletic performance, reducing glutamine poisoning in the treatment of a brain condition due to liver disease and for wound healing.
L-Arginine is an amino acid that probably has the most beneficial effects out of all known amino acids. Some of its popular benefits includes vascular health improvement, erectile dysfunction treatment, improved performance and muscle development through L-Arginine's human growth stimulant characteristics.
Source: L-Arginine – Drugs.com
Lastly, D-Aspartic acid is one of two forms of aspartic acid, the other is L-Aspartate. D-Aspartic acid is mostly used to help boost testosterone levels in men, preventing infertility. Athletes used it as a temporary physical performance booster and a muscle building support.
DHEA
Dehydroepiandrosterone (DHEA) is a hormone that comes from the adrenal gland (so Cybertrim Pro HCG is not truly hormone-free after all). It triggers the production of androgens and estrogens (male and female sex hormones).
DHEA is mainly use to treat hormonal disorders, HIV/AIDS, Alzheimer's disease, heart conditions, depression, diabetes, inflammation, immune disorders and osteoporosis.
There are evidence that DHEA can help treat obesity, along with some trials associated with osteoporosis and depression.
However, DHEA is not all good but is also known for its serious side effects. Some known side effects of DHEA includes prostate, breast and ovarian cancers, sexual disorders (irregular menstruation, breast tenderness, urinary urgency, reduces testes size, increased genital size in women and many others) and may also affect other hormones such as insulin and cholesterol.
DHEA's side effects are the reason why this compound is banned by some health organizations.
Source: DHEA – MayoClinic
Irvingia Gabonensis
Irvingia gabonensis or more known as African mango, is a seed that is clinically proven to lower cholesterol due to its high fiber content.
A research about irvingia gabonensis resulted to a decrease in weight which proved any doubt regarding irvinigia's positive effects on fat cell's growth. But irvingia gabonensis is much popular for its appetite suppressing effects.
Dong Quai Extract
Dong quai or also known as Angelica Sinensis (Chinese Angelica), has been used for centuries as a traditional herbal medicine. It is primarily used for gynecological disorders such as painful menstruation, childbirth recovery and many others.
This extract is also known to help alleviate headache, infections, nerve pain, high blood pressure, inflammation and cardiovascular conditions.
While dong quai extract is impressively beneficial, I really don't know why Windmill Health Products included this compound to Cybertrim Pro HCG, a weight loss brand.
Source: Dong Quai – HealthLine
Wild Yam Extract
Wild yam is sourced from a plant that contains diosgenin, a chemical that is made in the laboratory into various steroids such as estrogen and DHEA. This means that wild yam extract and DHEA has significant the same health effects and characteristics.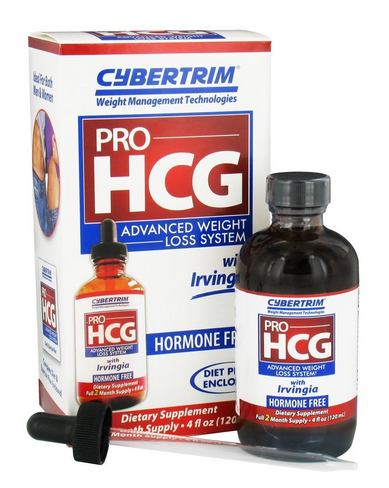 Is Cybertrim Pro HCG Safe?
With regards to Cybertrim Pro HCG's safety, there are no customer reviews that has been published online. So we can just depend on its formula and see if this diet drop is truly safe for you.
First off, the amino acids are known beneficial for your weight loss program. L-Carnitine for example is a fat burner and has tons of clinical studies to support this claim.
However, L-Arginine, Ornithine and D-Aspartic acid are not yet conclusive and still needs more evidence to completely support its health claims. Plus, D-Aspartic acid is well known to help increase testosterone levels in men which is not going to suit well with women dieters.
The wild yam, dong quai, black cohosh and chaste tree extracts are known beneficial to your health and safe for most adult users. However, these extracts are mainly focused on promoting healthy estrogen levels which is designed for women. This feature of Cybertrim Pro HCG will not definitely suits men well.
Irvingia gabonensis is another proven extract that is safe to a certain dosage. The dosage amounts of Cybertrim Pro HCG's formula is not that potent so this can be a plus. There are no stimulants or harmful chemicals in this product which makes it more safer than real HCG drops.
Can Cybertrim Pro HCG Work?
It is good to note that Cybertrim Pro HCG has common weight loss ingredients that can also be seen in most dietary supplements. Can it work? I can say that this brand may work but results will still vary.
Amino acids and irvingia gabonensis are the only compounds that can give significant weight loss effects. But its herb extracts are quite out of proportion for this type of supplement as these compounds are mostly used for sexual enhancements. Plus, these extracts made Cybertrim Pro HCG a more side effects-prone product.
Recommended Use
Use 1 dropper full (1ml), twice a day before meals. Windmill Health Products cautions that this brand may trigger sedimentation. Shake well before use.
Every purchase of Cybertrim Pro HCG includes an HCG diet program inside the box. This will help you on what to eat during your Cybertrim Pro HCG supplementation for better, effective and safe weight loss.
Consult your doctor before taking this brand. Do not exceed this recommended dosage.
Conclusion
Like many other supplements in the market, Cybertrim Pro HCG efficacy depends on the potency of its formula. Results also varies so we can't really tell if this brand is suitable for you or not.
Basing on its formula that includes both amino acids and herb extracts, you can only tell that these ingredients are blended to help improve your overall well-being, especially with regards to weight loss.
With only 260mg per serving, Cybertrim Pro HCG offers a non-significant dosage that is not enough to trigger side effects, but may not produce positive results either. Also, there are no customer testimonials for this brand online, which is supposed to help lift this brand's reputation online.
To learn more about this brand or to check its price, please visit its Amazon sales page here.
Our Top Rated Diet Drop Brand
HCG Complex

One of the bestselling dietary drop in the industry, HCG Complex is professionally grade, full strength slimming supplement that will focus on different key areas of weight loss. Try this diet drop now and see the difference of its potency compared to other popular brands.
Contains natural HCG formula
Burns fat and increases metabolism
Most trusted HCG drop in the market today
No HGH or stimulants (no known side effects)
Money back guarantee