The HCG Solution is a diet drop supplement that is based on the very popular HCG Diet by Dr. Simeon. HCG is a very popular formula in the weight loss industry and many products are derived from it.
However, The HCG Solution is not entirely based on human chorionic gonadotropin, but instead it is derived from HCG amino acid isolates, which is said to be more effective and safe compared to hormonal treatment.
Below are the highlights of this diet drop brand.
The HCG Solution by NiGen BioTech
Pros:
100% hormone-free (natural ingrediets

Based on an HCG Diet protocol


Improves weight loss

Money-back guarantee

Cons:
You have to follow a very low calorie diet

Side effects are possible


Limited customer reviews
Our Tip: Instead of using HCG Solution, consider using a proven brand – CLICK HERE
What makes us to get turned off with this brand is that, it literally has limited information to offer its customers. Aside from its ingredients, there are no other dependable details on how this diet drop truly works.
Another thing is that, there are very few customer reviews that you can count on. Okay, lets get deeper into this brand and identify if this can really work for you.
What is The HCG Solution?
The HCG Solution is a dietary supplement in liquid form and is taken by mouth through oral drops. Owned and distributed by NiGen BioTech LLC, this product is available on various online health retailers.
NiGen BioTech guarantees that this brand contains the full spectrum of human chorionic gonatotropin amino acid isolates derived from certified grade raw materials. These materials are being manufactured according to GMP (good manufacturing practices) standards.
Purchasing this diet drop comes with a generic "HCG Diet Plan" that you will follow. Remember that most HCG diet drops comes with its own dieting plan and The HCG Solution is not an exemption. In other words, you have to follow a very low calorie diet program, which is based on Dr. Simeon's original HCG Diet.
Ingredients of The HCG Solution
Each serving (1ml) contains a proprietary blend amounting to 211mg. This includes cissus quadrangularis, caffeine, D-Ribose, green tea extract, L-Proline, L-Cysteine, L-Arginine, L-Valine, L-Serine, L-Threonine, L-Leucine, L-Glutamine, L-Lysine, L-Aspartic acid, L-Glutamic acid, L-Alanine, L-Tyrosine, L-Phenylalanine, L-Asparagine, L-Glycine, L-Isoleucine, L-Histidine and L-Methionine.
Its inactive ingredients includes water, glycerin, sorbitol, sucralose, natural and artificial flavors, lactic acid, sorbic acid, sodium benzoate, xanthan gum and amino acid constituents of regular HCG.
How does The HCG Solution Work?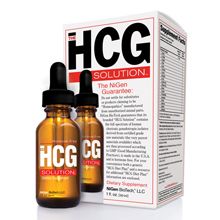 There are no information on how this brand truly works for weight loss. Based on its ingredients, it contains several compounds that can truly stimulate your body to produce energy and hopefully, burn fat as well.
Green tea extract and caffeine, including its amino acid blend are all effective in triggering weight loss effects. However, this brand is much more effective if you follow its own HCG Diet Plan. This means that your weight loss could be dependent on your diet, which is a very low calorie dieting program.
This means that this product only supports weight loss, but its true slimming effect comes from your own dieting efforts.
Is The HCG Solution Safe?
The HCG Solution is practically safe but obviously not for everyone. Remember that this brand has caffeine and this ingredient may cause some jittery side effects especially if you are highly allergic to stimulants.
This brand's dieting plan can also degrade your health if not applied correctly. Why? Because a low calorie diet regimen is a deprivation method where you do not eat a balanced diet such as protein. This leads your body to use or burn muscle tissues for fuel, which is not a good way to lose weight.
I suggest that you take The HCG Solution cautiously or you should consult your doctor first before you purchase this brand.
Directions of Use
The recommended use for adults is 1 ml by mouth, before 2 main meals which is equivalent to 2 servings per day. You should shake well before use, then refrigerate after opening.
If you follow this brand online, you may notice that the manufacturer's usage recommendation changes from time to time. I don't know the real reasons for this. So make sure that you visit the product's official website to keep updated on this.
Conclusion
The HCG Solution is not the best diet drop for you as it contains both stimulants and HCG amino acid isolates. Though this brand supports weight loss, it is highly unlikely to give you results on its own, but through its dieting plan.
If you are a previous The HCG Solution user and you found it effective, you may leave your opinion below through our comments section.
This brand is available in most online health retailers and through NiGen BioTech official website. However, the official website retails The HCG Solution for $39.99 per bottle which is a little bit high for an HCG product. I found a retailer that sells it for only $16.97, way low compared to other online retailers.
Please visit its official website to purchase.
Our Top Rated Diet Drop Brand
HCG Complex

One of the bestselling dietary drop in the industry, HCG Complex is professionally grade, full strength slimming supplement that will focus on different key areas of weight loss. Try this diet drop now and see the difference of its potency compared to other popular brands.
Contains natural HCG formula
Burns fat and increases metabolism
Most trusted HCG drop in the market today
No HGH or stimulants (no known side effects)
Money back guarantee