Want to get slim fast? If yes, then maybe IASO Ultra HCG2 can help.
IASO Ultra HCG2 is just one of probably thousands of HCG-based dietary supplements in the market today. With the popularity of Dr. Simeon's HCG diet, we can't seem to stop supplement manufacturers to formulate their own HCG brand.
But the question is, can this drop provide results? Read on and learn how IASO Ultra HCG2 Life Drops work.
IASO Ultra HCG2 Life Drops
Advantages:
Real HCG and amino acid formula

May trigger weight loss

Money back guarantee

Disadvantages:
Limited information

Limited customer reviews

You must follow the HCG diet plan

FDA warning about HCG products

Quite pricey

Visit Amazon to Purchase
Our Tip: Instead of using IASO Ultra, consider using a proven brand – CLICK HERE
What is IASO Ultra HCG2?
IASO Ultra HCG2 is owned and distributed by a US-based company called Total Life Changes LLC. This company offers wide variety of health products including a few clothing lines. This is also the manufacturer of one of the most popular diet drop in the market – Resolution Drops.
Total Life Changes LLC is a network marketing company, meaning that it offers a lucrative earning opportunity to network marketers. So like Resolution Drops, IASO Ultra HCG2 is an equally popular liquid supplement due to network marketers who lurks online.
But that is not the main focus of this post as network marketing is a "usual" business platform today. Lets concentrate more on how IASO Ultra HCG2 can help you lose weight.
IASO Ultra HCG2 is a liquid homeopathic supplement that claims to feature human chorionic gonadrotrophin hormone or simply known as HCG. This diet drop is also bundled with its own HCG diet plan, which originated from the real "HCG diet" by Dr. Simeon.
What is HCG?
To better understand IASO Ultra HCG2, you need to know first what HCG really is. Human Chorionic Gonadotrophin is a hormone that is produced by the human placenta during pregnancy.
Made from complex molecules that contain hundreds of amino acids, the occurrence of natural production of HCG during pregnancy ensures adequate nutrients for the developing baby.
Experts believe that HCG triggers the hypothalamus to mobilize stored fats in the bloodstream, which is used as a source of food. In theory, HCG helps stimulate metabolism and functions to protect the good fat from your body while helping to maintain muscle tissue from breaking down.
Aside from being a metabolism booster, HCG products are typically marketed in combination with a very low calorie diet (VLCD), usually limiting the you to just 500 calories per day. IASO Ultra HCG2 does require you to follow this type of dieting plan.
IASO Ultra HCG2 Ingredients
There are no ingredient information published in TLC's official website (similar to most TLC products). However, I was able to extract an "unofficial" list from one TLC network marketer named Annette Burges.
In her SlideShare account, she provided important information regarding IASO Ultra HCG2. This includes the drop's ingredients, directions of use and many others.
In her SlideShare page, she claims that IASO Ultra HCG2 contains real human chorionic gonadotrophin hormone with additional amino acids L-Arginine, L-Carnitine and L-Ornithine.
There are no amounts for these ingredients so I can't say its full potency. No other information listed on that page.
So How does IASO Ultra HCG2 Work?
Since this brand contains real HCG, it only means that it works similarly like many other HCG brands in the market. IASO Ultra HCG2 provides its own diet plan instructions called Digital Meal Guide, which helps you to follow a strict 500 calorie per day dieting program.
As aforementioned above, taking IASO Ultra HCG2 in conjunction with its dedicated diet plan can help trigger weight loss. HCG helps change abnormal eating patterns and will stimulate metabolism that leads to fat burning.
The very low calorie diet will further help you to lose weight. As you know, VLCD is one of the best ways to achieve weight loss but it is not ideal for everyone. Only seasoned dieters can follow this very restrictive diet plan. So if you can do 500 calories per day, then IASO Ultra HCG2 is suitable for you.
Amino acids have dozens of health benefits for you, including brain function improvement, athletic performance enhancement, energy boost, muscle growth, improves blood flow and supports fat loss.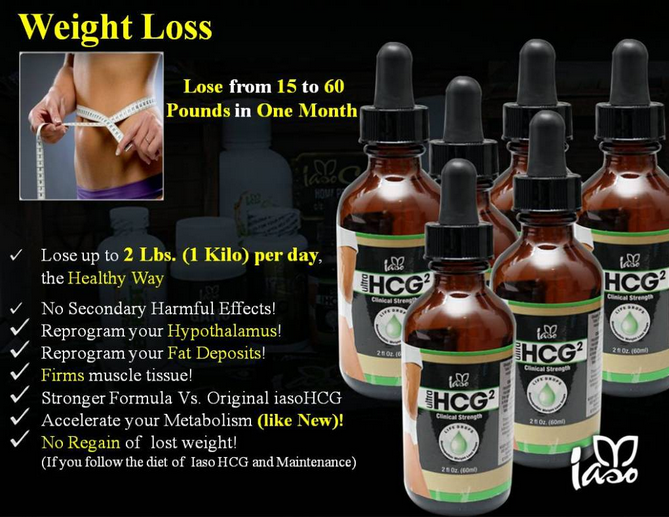 Is IASO Ultra HCG2 Safe?
While HCG seems to be an enticing way to lose weight, the FDA doesn't recognize HCG as a weight loss remedy but rather branded as "dangerous".
In this FDA Consumer Update report, FDA claims that homeopathic HCG products are illegal, ineffective and unsafe. The HCG diet meanwhile are branded as "potentially dangerous diet" due to its restrictive dieting nature.
FDA further concludes that the achieved weight loss by most HCG users was actually from the restrictive diet, and not directly caused by the HCG homeopathic drop. IASO Ultra HCG2 is marketed as a "homeopathic" drop.
VLCD or the conventional 500 calorie dieting plan is not ideal for anyone as it can lead to various health deficiency, degradation or even death. So if you think that you can't follow VLCD, then IASO Ultra HCG2 is not for you.
So is IASO Ultra HCG2 safe? Well, I found no side effect complaints for this brand online. But it doesn't mean that it is a side-effects free drop. This brand is probably safe for most adult dieters but not entirely safe due to its dieting plan. HCG is also not studied conclusively regarding safety so this is another concern for you.
To ensure safe supplementation, you need to consult your doctor first before you use IASO Ultra HCG2.

Directions of Use
There are no official statement on TLC's website regarding instructions on how to use this diet drop.
According to the link above (Annette Burges), IASO Ultra HCG2 features a 4-stage diet which is in accordance with the original HCG Diet by Dr. Simeon. This 4-stage diet includes VLCD and taking of IASO Ultra HCG2 Life Drops.
You can see the full instructions for IASO Ultra HCG2 on that page's slideshare. This information is of course, not official.
Conclusion
IASO Ultra HCG2 is probably the most popular HCG brand in the market because of its massive presence online. But it doesn't mean that it is the best, though I believe it can still give you some measures of weight loss especially if you follow its diet plan.
The VLCD is a bit turn off to me as I am not a fan of low calorie dieting regimens. You can achieve weight loss but it might come from the diet, not because of the drop.
The limited information about this drop is also hurting its reputation online. Its price is another turn off with a $53 tag. But this is way cheaper than its sister product Resolution Drops.
It is up to you if you want to try this brand or not. You can buy this brand on its official website but you are obliged to create your own account and submit a "referrers" id (this is a network marketing company – just to remind you).
It is much more convenient if you purchase a bottle from Amazon. To buy IASO Ultra HCG2, please visit its Amazon page here.
Our Top Rated Diet Drop Brand
HCG Complex

One of the bestselling dietary drop in the industry, HCG Complex is professionally grade, full strength slimming supplement that will focus on different key areas of weight loss. Try this diet drop now and see the difference of its potency compared to other popular brands.
Contains natural formula
Burns fat and increases metabolism
Most trusted HCG drop in the market today
No HGH or stimulants (no known side effects)
Money back guarantee