Disclaimer: We may be compensated through the links in this page, but the opinions are our own.
Super Lean Spray is a product from an unknown company with no online profile – Garden Quality Health.
Diet sprays are just like drops as both are in liquid form. Diet sprays are now abundant in the market due to its equally impressive efficacy results. However, not all sprays are created equal.
How can Super Lean Spray help you lose weight? Read on to learn more.
Super Lean Spray
Pros:
Natural formula


May provide slight weight loss
Con:
Limited information

Positive reviews are likely fake

Formula is not potent enough

Side effects are possible

Pricey – $29.99 per bottle


Refund – highly unlikely
Our Tip: Instead of using this drop, consider using a proven brand – CLICK HERE
Super Lean Spray is owned by a company called Garden Quality Health, which I believe is an exclusive seller at Amazon. Unfortunately, there are limited information for this brand online and the company currently has no official website.
Not to be confused with Super Lean Spray 2500 from MaritzMayer Laboratories, today's featured product is a completely different formula.
Super Lean Spray claims that it can help deliver weight loss in various ways such as energy and metabolism boost, appetite reduction and rapid fat burning action.
With nothing but Amazon sales page, we can only get few and less-detailed information for this brand online. This puts you in a disadvantage position as you have limited idea about the product and gives you less features such as money back guarantee.
Super Lean Spray Ingredients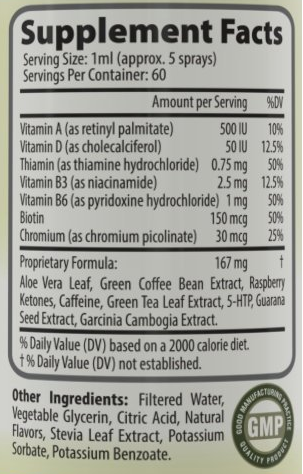 Like many other diet sprays, Super Lean Spray contains 100% natural formula. Its ingredients are all known beneficial to both weight loss and overall health.
The proprietary blend (167mg per serving) is composed of aloe vera leaf, green coffee bean extract, raspberry ketones, caffeine, green tea leaf extract, 5-HTP, guarana seed extract and garcinia cambogia.
Super Lean Spray also feature biotin, vitamins A, D, B3, B6, thiamin and chromium.
Its inactive ingredients are filtered water, vegetable glycerin, citric acid, natural flavors, stevia leaf extract, potassium sorbate and potassium benzoate.
Garden Quality Health claims that Super Lean Spray is being manufactured under good manufacturing practice or cGMP.
How does Super Lean Spray Work?
Super Lean Spray have all the tools to produce weight loss. It features thermogenic agents and metabolism boosters such as caffeine, green tea, guarana and green coffee bean extracts.
These ingredients can elevate your energy and metabolic levels, which can trigger rapid burning of calories and fat. These compounds also helps improve other areas of your health such as providing antioxidants.
Super Lean Spray also provides appetite reduction agents such as 5-HTP, chromium, garcinia cambogia and raspberry ketones. All of these ingredients can increase your serotonin levels that helps stabilize your mood and eating behavior. Chromium helps regulate your glucose levels so you can reduce your sugar cravings.
So Can Super Lean Spray Deliver Results?
It seems that this brand is doubtful with regards to efficacy. It is not that my judgement is clouded or what, but there are crucial factors that you have to know why this brand is not ideal for your weight loss program.
First, this product has perfect customer reviews from Amazon. Despite having no official website, Super Lean Spray's official Amazon sales page feature no bad reviews but are all positive. This is quite fishy as there are no such thing as a perfect supplement. So, most of these reviews are more probably fake or invented just to uplift this brand online.
Second, the formula of Super Lean Spray is dosed at a mere 167mg per serving , which is quite not powerful enough to trigger slimming effects. Yes, it may provide some measures of weight loss but I doubt if it can give you long-term results especially if you will not exercise and diet.
Lastly, there are no dependable studies, trials or any statement coming from its official website about its overall features. Without any online entity, you are obviously on the disadvantage.
So can Super Lean Spray help you lose weight? The answer to that is NO!
Is it Safe?
With all reviews being positive, you can bet that you will find no side effects for this brand online. That is if you only look at its customer reviews in Amazon.
But if you analyze its formula, you can easily tell that Super Lean Spray is not a side effects-free diet spray simply because it is bombarded with stimulants. Ingredients such as caffeine, guarana, green coffee bean and green tea are all stimulants that can trigger adverse health effects.
You are encouraged to consult your doctor first before you take Super Lean Spray.
Directions of Use
Garden Quality Health recommends that you take 5 sprays in mouth, twice a day for best results.
There are no other instructions published online.
Conclusion
Super Lean Spray is not the best diet spray for your weight loss program. With no official website, you are simply at the receiving end of the stick and all the disadvantages are at your side.
Super Lean Spray is likely ineffective and side effects are possible so you have to think twice before you decide whether you really want this product or go for other brands.
Our Top Rated Diet Drop Brand
HCG Complex

One of the bestselling dietary drop in the industry, HCG Complex is professionally grade, full strength slimming supplement that will focus on different key areas of weight loss. Try this diet drop now and see the difference of its potency compared to other popular brands.
Contains natural formula
Burns fat and increases metabolism
Most trusted HCG drop in the market today
No HGH or stimulants (no known side effects)
Money back guarantee