Transformation Drops is another diet drops that claims to have a potent fat burning and appetite suppressing properties.
While at first glance its formula is a disappointment due to its limited key ingredients, it seems that the blend is actually a plausible one with regards to fat loss and appetite control needs.
Read on and learn why this diet drop can actually support your weight loss goals.
Transformation Drops
Advantages:
100% natural formula
Supports fat loss and appetite control
Promotes other health benefits
Some good reviews online
No known side effects
Affordable
Money back guarantee
Disadvantages:
Limited information
Can only be purchased online
Transformation Drops is a product of New World Herbal Wellness, LLC, a company that owns the trademark name Doctor Recommended.
As you noticed, there are several brands online that banners similar name such as Total Transformation Drops and Transformation Diet Drops.
According to Doctor Recommended site, this diet drop is primarily a fat burner and appetite suppressant formula though we believe that it can also trigger other areas of weight loss as well.
The official website of this drop provided limited information but they gave the full details of its formula which we can use later to analyze if this brand can truly deliver results of not.
Transformation Drops is highly affordable and the manufacturers of this drop offers 100% money back guarantee, which is really a plus nowadays where most people worldwide shop online.
Transformation Drops Ingredients
Ingredients include hydroxycitric acid from garcinia cambogia fruit extract, green tea, gentian root, gamma-aminobutyric acid and L-Carnitine.
Other ingredients include water, citric acid, stevia, potassium sorbate, sodium benzoate, USP grade alcohol and glycerin.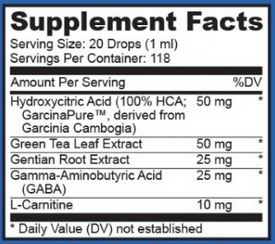 Transformation Drops Features
This diet drop doesn't claim much with regards to weight loss but only claims to help burn fat and suppress appetite. Can this drop deliver results?
Since there are limited information about this drop on its official website, lets focus more on its key ingredients and see if Transformation Drops is truly plausible for weight loss.
Fat Burning Properties
First off, lets analyze its fat burning claims. From the looks of it, Transformation Drops has garcinia, L-Carnitine and green tea leaf extracts as the brand's key fat loss agents.
Garcinia cambogia is actually not a fat burner though it is believed to have the ability to prevent fat storage, boost energy levels and improve exercise performance.
The key compound in garcinia cambogia is called hydroxycitric acid or simply known as HCA – WebMD.
Green tea on the other hand, is well-known for its weight loss properties. Many experts gree that green tea's polyphenols and caffeine content helps trigger its fat burning abilities.
Plus, you can't debunk green tea's antioxidant benefits which can help strengthen your immunity against chronic diseases such as cancers.
Lastly, amino acid L-Carnitine is known to promote fat loss as well and is widely used as a fat burning and energy booster in most weight loss and sports nutrition products.
L-Carnitine also helps treat male infertility, cancers, mood swings, brain disorders, heart diseases and many others – WebMD.
Appetite Suppressing Properties
There are two remaining active agents in Transformation Drops and that is gentian root and gamma-aminobutyric acid, and both of these can help you control your appetite better.
According LiveStrong, gentian root is used for digestive disorders such as stomach pain, diarrhea, constipation, appetite loss, fullness, intestinal gas and many others.
As you know, improving your digestive system also means improvement in your overall health especially with regards to weight loss.
Gamma-aminobutyric acid meanwhile, is a known appetite suppressing agent and is used widely as a weight loss agent.
Known simply as GABA, this compound is mainly found in the brain which function as a neurotransmitter. So it works by blocking brain signals that you need to eat, preventing unwanted munching.
GABA also promotes muscle growth, exercise performance improvement, fatigue reduction and many others.
So is Transformation Drops Safe to Use
This diet drop is likely safe due to its natural ingredients though you still have to consult your doctor first before you take this product.
Suggested Use
According to its website, adults can take twenty drops once daily.
For best results, take between meals and use for a period of no less than four to six weeks.
Conclusion
As you can see, Transformation Drops is plausible when it comes to weight loss. It can trigger some measures of weight loss for you and is highly safe compared to other diet drop brands online.
If you can combine a sensible diet and regular exercise, then you may get significant results in no time.
Plus, Transformation Drops is highly affordable with money back guarantee.
You can get your bottle right now by visiting its website through the link below.
Click here to Purchase Transformation Drops
Our Top Rated Diet Drop Brand
HCG Complex

One of the bestselling dietary drop in the industry, HCG Complex is professionally grade, full strength slimming supplement that will focus on different key areas of weight loss. Try this diet drop now and see the difference of its potency compared to other popular brands.
Contains natural formula
Burns fat and increases metabolism
Most trusted HCG drop in the market today
No HGH or stimulants (no known side effects)
Money back guarantee