YouTonics Sport was previously a post-workout beverage sport drink designed to reduce fatigue, muscle stress and prevents joint soreness. The new version of this product features a much-improved formula.
Yes, YouTonics Sport is now designed specifically for workout enthusiasts and not just for post-workout benefits, but also to help people last longer in their exercise routines.
Read on and learn how YouTonics Sport can help improve your overall fitness program.
YouTonics Sport
Pros:
100% safe ingredients

Improves your athletic performance

Provides other health benefits

No known side effects


60-day money back guarantee
Cons
Limited reviews

Quite expensive

Visit Bauer Nutrition to Purchase
Our Tip: Instead of using this drop, consider using a proven brand – CLICK HERE
YouTonics Sport is a product of YouTonics. However, this product seems to be solely distributed by Bauer Nutrition, a UK-based supplement manufacturer who also features anabolic and weight loss supplements.
Anyway, as aforementioned above, YouTonics Sport is a performance-enhancing liquid supplement that was previously marketed as a beverage. Well, technically this product can still be used as a beverage but you have to mix it with your favorite drink.
YouTonics Sport is now served like a diet drop and is now marketed as an anabolic supplement that will help supercharge your body's ability to perform while preventing unwanted body aches post-workout.
YouTonics Sport claims that it can help increase muscle retention, soothe post-workout soreness, builds and protects muscle, accelerates recovery and many others.
In short, this product is designed to maximize your physical performance. Lets look at its ingredients.
YouTonics Sport Ingredients
YouTonics Sport is composed of 1000mg protein collagen blend and a formula that they call Tri-Optimised Sport Blend (60ml). This product is also composed of amino acids L-Leucine, L-Isoleucine, L-Valine, L-Carnitine (BCAA's).
Its inactive ingredients are dextrose monohydrate, fructose, mango and passion fruit flavors, potassium sorbate, sodium benzoate and sucralose.
So How does YouTonics Sport Work?
Since YouTonics Sport is composed of BCAA's and protein collagen, you can easily analyze how this product works.
YouTonics Sport claims that it can help improve physical performance. Well, BCAA's are designed to do just that! Amino acids does many things to your body – mental and joint health, muscles, recovery time, weight loss and physical performance.
BCAA's are essential for muscle growth as amino acids are the building blocks of protein. They also help repair muscle fibers and speed up recovery from muscle damage by delaying the onset muscle soreness.
How about its protein collagen blend? Collagen increases your natural human growth hormone levels. As you know, the more HGH you have, the more you build serious muscles while supporting muscle retention. This means that YouTonics Sport can help reduce muscle tissue breakdown, which helps you to retain muscles during intense workouts.
Lastly, collagen can help improve your tendons and joints by maintaining their elasticity and flexibility. Plus, BCAA's can also help maintain and protect cartilage, which is your body's natural lubricant.
YouTonics Sport is focused on on improving your tendons and cartilage, which in turn will help improve your mobility and lubrication that will prevent joint pains from strenuous workouts.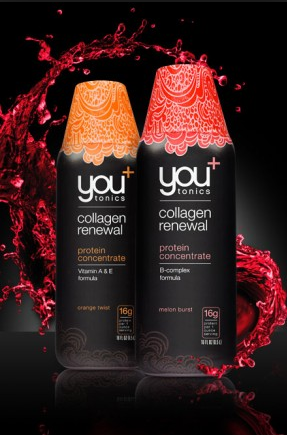 Is YouTonics Sport Safe?
YouTonics Sport is a seasoned sport drink and has been in the market for years. There have no reports of adverse health effects for this brand online.
Though safe for most athletes and sports enthusiasts, you are still encouraged to consult your doctor first before you use YouTonics Sport.
Directions of Use
Bauer Nutrition recommends that you shake well before each serving. Take one 30ml measure, 30 minutes before you go to bed for maximum results.
No other instructions are published online.
Conclusion
YouTonics Sport is an improved beverage sport drink that is now turned in to a potent anabolic supplement due to its BCAA's and protein collagen blend.
This product however is more like an energy-drink than a complete bodybuilding aid. But since its formula is a credible one, I have to say that it may help your workout program to be successful and can even provide some measures of weight loss.
To buy YouTonics Sport, please visit its Bauer Nutrition sales page here.
Our Top Rated Diet Drop Brand
HCG Complex

One of the bestselling dietary drop in the industry, HCG Complex is professionally grade, full strength slimming supplement that will focus on different key areas of weight loss. Try this diet drop now and see the difference of its potency compared to other popular brands.
Contains natural formula
Burns fat and increases metabolism
Most trusted HCG drop in the market today
No HGH or stimulants (no known side effects)
Money back guarantee